Sama Miguel is not just a name, but a brand. A brand that stands for excellence, elegance and innovation in the world of fashion. He is the founder and creative director of SM Class, a reputable fashion house that showcases the beauty and diversity of African culture through stunning designs and fabrics.
Born Ayatou Tita Sama on March 20th, 1997, in a Muslim-Christian family from the North West of Cameroon, he discovered his passion for fashion at a tender age. He was always fascinated by African fabrics and locally tailored dresses, and he experimented with different styles and ideas to express his personality and creativity.
His first design was a hand-painted kaftan outfit that depicted a lady carrying a basket and a hoe, as a tribute to his grandmother who influenced his childhood. From this humble beginning, he has grown to become one of the most sought-after and acclaimed fashion designers in Cameroon and beyond.
His vision is to tell African stories through fashion, and to add value and class to African fashion. He pays attention to the rich cultural heritage and diversity of Cameroon, and incorporates them into his designs. He also uses modern techniques and trends to create unique and avant-garde pieces that appeal to a global audience.
He launched his first collection, the Luxury Collection, in 2020, followed by the Elegant Collection in 2021. In the same year, he officially launched the SM Class Fashion House, which has become a household name in the fashion industry. In 2022, he unveiled the Danshiki Revolution, which was a huge success and received rave reviews.
He has dressed many celebrities, both local and international, such as Epule Jeffrey, Grand Lawrenzo, Kwoh ELonge (Auntie Felicia), Ndamo Damaris, Zack Orji, IK Ogbonna, Triky T and Ramsey Noah. He has also won several awards, such as Best Fashion Designer at the Enysem Golden Award (EGACAM) 2021, Best Fashion Designer at CAMYE Awards 2022, Best Emerging Fashion Designer at Heritage Awards and Fashion Designer of the Year at the New Breed Awards 2023.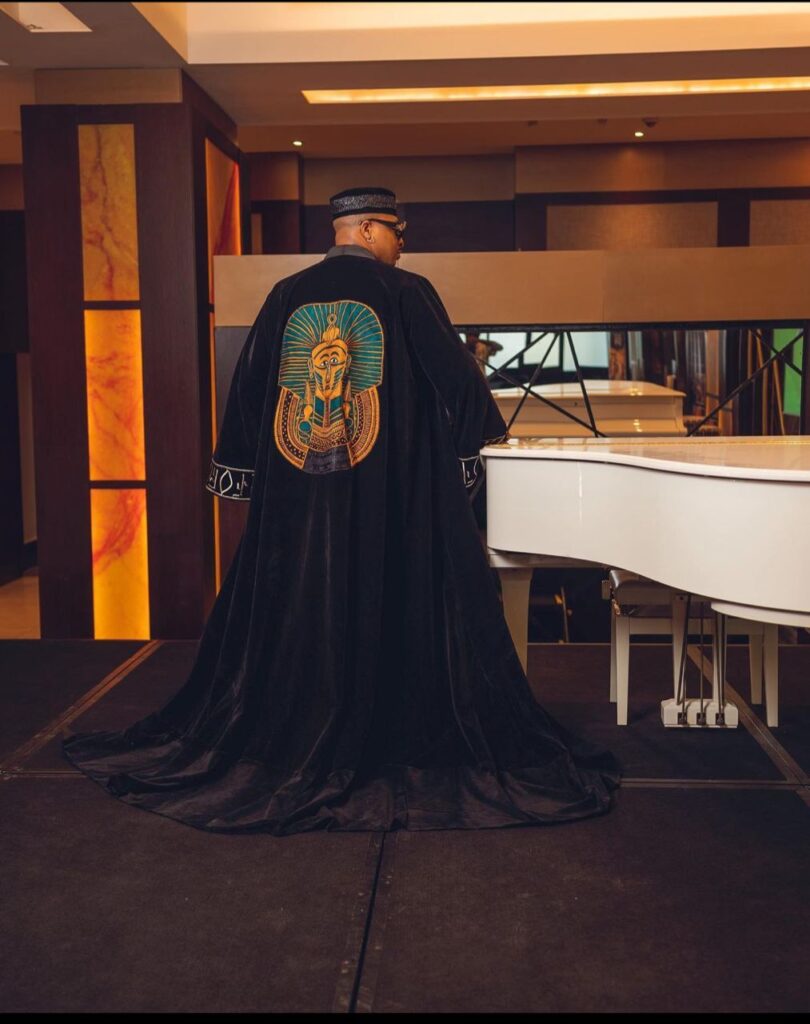 He has also participated in several international fashion events, such as the Katiti Seychelles Fashion Week, the Africa Fashion Week Nigeria and the Fashion Talk and Seminar in Dubai. He has impressed the world with his talent and skill, and has earned recognition and respect from his peers and mentors, such as Mai Atafo, Deji & Kola, Seyi Vodi and Yomi casual.
One of his most remarkable designs was the blazer with Toghu embroidery and knitted cowries on the sleeves that he wore at the Cameroon International Film Festival in 2023. It was a masterpiece that went viral on social media and showcased his ingenuity and originality. He continues to break new grounds and set new standards in fashion designing, and he is on his way to becoming one of the top African designers.
He recently released a new collection where he transforms the popular Toghu fabric into an urban classic suit. The fabric details and finishing are impeccable and professional. He proves once again that he is a master of his craft and a visionary of his art.