SMELO 's Musical journey is an interesting one to follow as he always leaves you wanting more . The artiste has decided to narrate every single state of his life with his music . When we said , Artistes shouldn't do abstract music , SMELO understood it . The artiste decided to pen his life experiences in his songs and music . You can easily relate to his songs as he sings about his experiences , thoughts and Challenges. SMELO has decided to further his music journey by Blessing us with another EP titled MR-NJOKA EXPERIENCE 2 .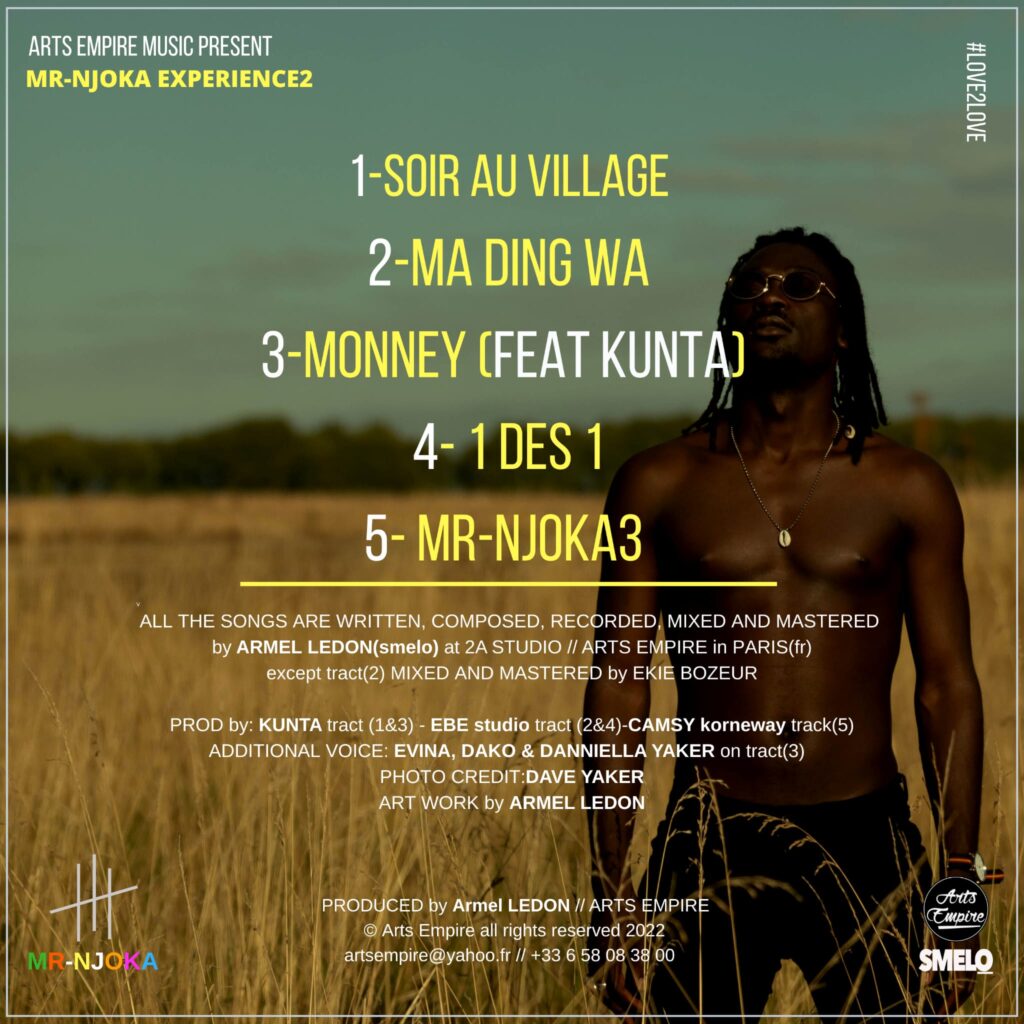 SMELO made sure that no matter the kind of music you like, there is a song for you in that Ep . He has demonstrated how diversified he can be when it comes to music . We honestly think he wanted to show the world when it comes to music , he can play on any beats and deliver with ease .
The Ep opens with Soir au Village which sounds Spiritual to the ears . SMELO's Voice on the beats is perfect match . It's a cool Rap song on local instrumentals. The song shows creativity on another level . SMELO shows the world that rap and hip hop can be done on local instrumentals and it sounds so beautiful . Soir Au Village is such a beautiful peace .
Track 2 of the Ep is Ma Ding Wa . Many people have been questioning why the song was not track one . It's a beautiful Cameroonian Song from the instrumentals to the lyrics and story . SMELO can be describe as CRAZY , Soir au Village will make you think he can't jump on such a Bikutsi , Makossa , Njang or any kind of beat till you listen to Ma Ding Wa and understand that SMELO's diversity is second to none . Ma Ding Wa is a beautiful love song . The story is related and you can't resist dancing to the song .
Money featuring Kunta is a club Banger . We feel like SMELO also makes music for every moment . "Money" has a Benskin vibe and the lyrics super cool . It's a club banger and you'll definitely not sit down if the song is played in a club . It's beautiful as you feel the beauty of CAMEROON music on the instrumentals and flow .
When we said SMELO is crazy Musically we meant it . He comes back on track 4 " I des 1" which is a Mbole song . Who could imagine SMELO will be this good even when
It comes to Mbole ? Mbole is currently
Trending in the country and it's beautiful to see SMELO show his mastery of this genre of music in his EP . Watch video here
The Ep ends with Mr Njoka 3 a spicy rap song that will keep you smiling all through .SMELO's ability to switch up his voice and rap like a pro is a must applaudable act . MR NJoka 3 is a pure hip song and Rap music lovers will fall in love with this piece .
MR NJOKA THE EXPERIENCE2 by SMELO has music for everybody . You love Rap ? Mbole? Bikutsi? Benskin? Then SMELO got you covered . There is a song for you in this EP . Every piece is unique and sound different.
Stream here https://www.boomplay.com/share/album/53403444?srModel=COPYLINK&srList=IOS