Pa Bali is a Composer, Songwriter, and Vocalist who hails from the grassland region of Cameroon, specifically, Bali Nyonga. The name Pa Bali, simply means a father from Bali who is so attached and has so much love for his homeland, Bali. Having grown up entirely in the village, to him, Bali Nyonga gave him an unshakable foundation to face any situation in life. Pa Bali now resides in Bowie Maryland, USA.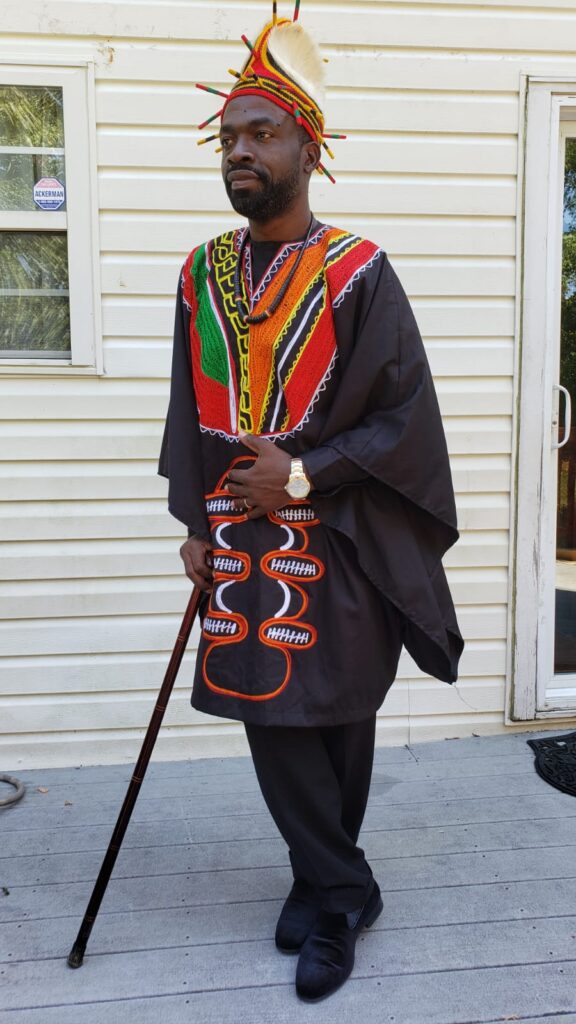 His love for music was shown early in life at age 5. Having grown up in Bali Nyonga, his love for culture and music has led to his specializing in Folklore – blending traditional and modern instruments to create his line of music, always packed with meaning and educational information.
Pa Bali has released 5 albums since 2006, and a couple of singles. He has also composed and released personalized songs for others on their birthdays and weddings……..
In this Brand-New single track/video coming out Saturday Sept 17th 2022 at 12:30 pm, Titled Fu Mpompom, Pa Bali has decided to tackle what he thinks could be a major health and environmental hazard facing his people back home. And Pa Bali thinks this issue should be addressed sooner rather than later.
Growing up, Pa Bali saw his parents, and villagers at large, cut grass on the farmland with cutlass or machines in order to cultivate and plant crops.
However, over the past 7 years or so, Pa Bali has pondered over a very disturbing new trend and has decided to take his cry and worries to the public via this track, Fu Mpompom.
And what is this disturbing trend??? The use of chemicals to spray/kill grass on farm lands.
Pa Bali thinks this could be causing a major disruption in the eco-system and should be addressed immediately, or at least set up some form of channels to educate these poor villagers who are almost, at this time, 100% dependent on these chemicals. If a chemical has the potency to kill grass of all species right to their roots;
is there any possibility this chemical can also harm a useful soil bug in the process???
What has happened to crickets and termites (almost in extinction) in my village???
What has happened to mushrooms??
How about other animals that burrow and live in the soil???
What happens to the soil content? Will the soil still be fertile enough for our great grand children to cultivate and feed from???
If these chemicals are so potent to wither grass within few days, could there be any slim possibility it could also harm humans???
If so, what becomes of the one who is on the farm all day long spraying and inhaling the odor from these chemicals??? Could there be possibility of health issues over time from inhaling these chemicals?
If most of our people are drinking water from streams, is there any slight possibility some of these chemicals can end up in these streams after being washed off by rain waters???
Can we as a people stop for one moment and think about these questions?
If these chemicals are completely harmless to the soil, animals, and humans, then Pa Bali, and others who care about our green earth can go to sleep rest assured. However, if there is any slight possibility of harm to animals or humans (even over time) then we could safe a soul or two just by pondering over these questions and doing something about it NOW. As our people say, "a stitch in time, saves nine."
These questions, and many more, gave birth to the track,
"Fu Mpompom".
Please, do not just enjoy the rich melody, lets together find answers to these questions and pass onto our kids the same soil and eco-system we took from our parents.
Pa Bali.